64th Miramichi Folksong Festival
Kicks off with a Tartan Take out dinner
To say that 2020 was a trying year for festivals; would be an understatement. The Miramichi Folksong Festival has hosted as many as 20 shows a year over the past 30 years. Covid 19 put an end to that, but the festival was not going to lose its status as Canada's longest standing Folksong Festival, so it decided to go with a virtual 63rd season. The response was gratifying with our audience viewing it from all over the world on face book. We were fortunate enough to host a Remembrance Day Take Out Dinner in November, serving over 200 people.
The past 8 years we have teamed up with the Highland Society of New Brunswick at Miramichi and hosted the annual Tartan Day Dinner/Concert. This year we will be hosting in a different format, without the concert but with a Take Out Dinner. This will be held Sunday, April 11 at the Beaverbrook Kin Centre sponsored by the Highland Society and the 64th Miramichi Folksong Festival. Tickets are $20.00 each and must be ordered and paid in advance by calling 506-622-1780 on or before April 5th.
The menu caters to all diets, Regular, Gluten Free. Vegetarian and Diabetic. The meal consists of sweet oven baked chicken, mashed potatoes, stuffing, vegetable, gravy, roll , cranberries and butterscotch Redford for dessert. When ordering your meal, please state what time you would like to pick up your dinner. Pick up times are between 2pm and 5 pm at the Beaverbrook Kin Centre, 100 Newcastle Blvd.
Masks are required and physical Distance maintained.
Virtual via YouTube – Miramichi Folksong Festival
Welcome to Canada's Longest Standing Folksong Festival!
Featuring 5 days of authentic, traditional and contemporary music for the whole family!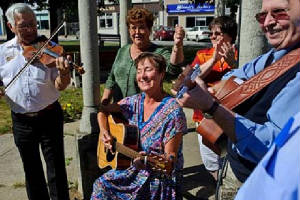 The Miramichi Folksong Festival Features:
Five days of music for the entire family!
Singers, Dancers & Fiddlers.
New Brunswick Day breakfast with live music.
Boat Cruise  on the Miramichi River with live music.